Our Flower & Gift Shop
Shop Now
Our Staff
Our staff's commitment to you

Our staff is committed to providing support, compassion, information, and direction as needed to all members of our community, their families, and friends who are dealing with loss and grief. Staff members of Wiscombe Funeral Home are caring and experienced professionals who understand that each family is unique and has personal requests and traditions. These requests and traditions are of utmost importance to our staff of licensed funeral directors.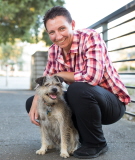 Vera Smith
Owner
Vera was raised in Caliente, Nevada where she first met the Wiscombe family. During her teenage years she would often babysit their children. After serving a mission for the L.D.S. Church in Tennessee she entered mortuary school in San Francisco, California. After graduating, Vera went to work for Hites Funeral Home in Henderson, Nevada and later relocated to Sierra Vista, Arizona where she had been employed with Hatfield Funeral Home since 2001 having been involved in every aspect of funeral service in addition to being their crematory operations specialist. While at Hatfield's, Vera became very proficient at serving military veteran families.

In June 2006, the Wiscombe family was thrilled when Vera enthusiastically accepted a position to join them in Davis. It has been exciting for the Wiscombe's to watch Vera embrace the funeral profession where she is highly committed to the families she serves. The quality of our service is strengthened by her compassion and dedication.

In December 2010, Vera purchased the funeral home from the Wiscombe's. She is excited for this new opportunity and continues with the same dedication to those we serve.